Post by beatlies on Oct 3, 2007 8:06:15 GMT -5
Some basics about Beatle Paul, to begin with a summing up:
1) From August 1966 on to the present day, Beatles member Paul McCartney (real, full name: James Paul McCartney) is markedly different in physical appearance and voice than he was at any time before. There are persistent differences that go beyond what is possible with makeup or plastic surgery, and indicate that a different individual(s) has taken his place, falsely and permanently assuming the identity of James Paul McCartney. The physical proof is in the film, video, photos and audio of McCartney before and after this key 1966 time period.
2) The "real" Paul McCartney has apparently not appeared in public since September 1966, under his real name/identity, not even for a brief appearance (some who maintain that he was imposter-replaced have differences of opinion on this issue).
The reason for Paul McCartney's disappearance and replacement with one or more imposters remains, to the public, uncertain to this day.
3) There are many "clues" left by the Beatles and their managers/handlers/entourage, telling us that Paul McCartney was replaced with an imposter, in the form of messages and coded messages in post-Sep. 1966 song lyrics, visuals on album covers, illustrations, photos and cartoons, backwards audio messages, word references and encryptions, coded signals in Beatles-related movies, TV and public appearances etc.
4) These clues first appear in 1966 but it was not until May of 1969 that the general public became aware of them, when the mass media began the "Paul is Dead" discussion of clues and possible death scenarios of Paul, with PID proponents sometimes mentioning 1966 as the likely year of the event and initial cover-up. The real name of the man impostering Paul McCartney was said to be "William Campbell" or "Billy Shears." When radio shows and magazines asked questions of Beatles members and their inner circle at this time, they all denied the rumor.
5) There is circumstantial evidence for the imposter replacement of Paul McCartney as well: a strange, corresponding "Black Hole" period from September through December 1966 in the Beatles timeline when very few, if any, public appearances were made by any Beatles members. During this time, rumors circulated that Paul had been in a severe car accident, and that the Beatles were about to break up.
"Paul" surfaced in December looking and sounding quite different, and this is when all the Beatles initially transformed their look from the former "moptop" style to the Sgt. Pepper-era "psychedelic" older-looking, facial hair appearance.
The "New Paul" also had mental changes to go with his physical ones: a more dominant, assertive personality, politics that seemed to swing toward the right/political apathy from his previous stance (judging by interview statements), a promotion of LSD use on national TV, a shift in girlfriends, changes in his bass guitar playing and performance style, changes in hobbies and interests etc.
6) Paul McCartney is today perhaps the most "well-known" case of alleged celebrity imposter fraud, although most people still have heard little-to-nothing of the rumor and supporting facts, beyond the "Paul is Dead" legend and maybe a few album clues.
The general possibility of celebrity doubles and imposters seems a fantastic, unlikely story to most, mainly because of the necessary collusion/collaboration on the part of governments, police, media, the press, academics, family and friends, "the powers that be" etc. that would be required for such hoaxes to go on without being exposed. In other words, it implies that the public is being lied to in an extremely large and "Orwellian" manner, on a daily basis.
*******
Please add anything to this list that you feel that I've missed or needs correction.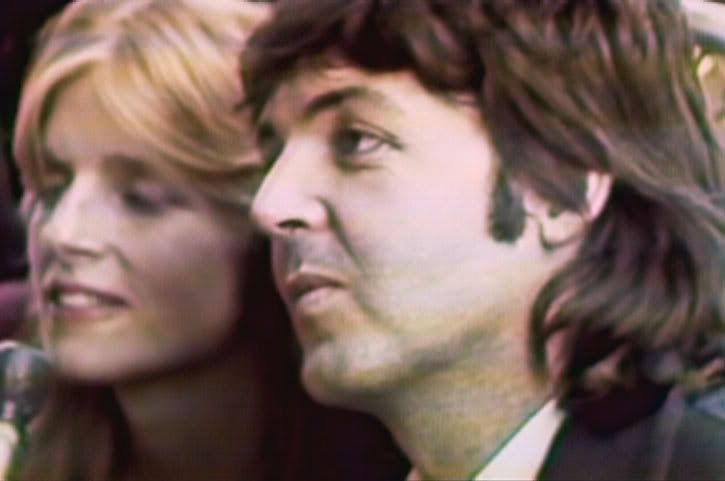 A smoking gun for the world: "Faul" the McCartney Imposter caught on film unawares with his fake plastic ear missing a piece.