Post by GetSmart on Oct 13, 2009 15:14:12 GMT -5
This thread is dedicated to exploring the History of Cloning.
Officially, in 2009 at the time this forum topic is first started, contemporary science is not yet able, or willing, to create human clones. Animals have been cloned, but there has not yet been any official announcement of human beings having been successfully cloned.
Futhermore, there is a considerable taboo regarding cloning people, given that we would not be very comfortable that others elect themselves as "Gods" creating human life as they deem it fit to exist. Most of humanity has ethical issues regarding cloning, and would not look forward to a world inhabited by clones.
Nonetheless, it is conceivable that human cloning is something which is probably ongoing in secret military research and it might have occurred in the past, as we shall explore in this thread.
To start the thread, I will bring forward a possible cloning candidate, dating back over two centuries in time. I know this doesn't sound conceivable or even remotely likely, and its implications if true would mean that there has been quite a bit of knowledge and science which has been kept hidden away for centuries, guarded within secret societies with a vocation for control and manipulation.
My candidate for early cloning is the Imperial Prince Napoleon Francois Joseph Charles, King of Rome, Duke of Reichstadt, also known as Napoleon II later named "L'aiglon" or "The Eaglet" by French novelist Victor Hugo, himself believed to be at the head of the Priory of Sion.
We must remember that his father, Napoleon Bonaparte, was brought to power by the French Revolution of which he was the main war hero. Not insignificantly, Napoleon was sent to Egypt where he waged and won the Battle of the Pyramids. Upon his return to France he brought back many artifacts and treasures from Antiquity, possibly some we know little about.
Napoleon was an Illuminati, as were the key ideologues and politicians of the French Revolution. The philosopher Voltaire, who was Grand Master of Freemasonry, used his Illuminati name "Voltaire" as his pen name, his real name being Francois Marie Arouet. The most notorious Revolutionary leader was Robespierre, nicknamed the Incorruptible; he was also member of the Illuminati as were most of the others.
It should therefore come as no surprise that another Freemason and Illuminati would take over where they left off, to further carry out their plans for a totalitarian New World Order, the order of centuries. Napoleon was quite successful in bringing about a fascist control system, his Minister of Police Joseph Fouche organizing the first pervasive spy system later used as a model for the intelligence agencies such as the Gestapo, the KGB and the Stasi (not surprisingly, that minister stayed on when Kings returned to power).
It is my contention that Napoleon was to militarily take over all of Europe, then the main power base and concentration of wealth of planet Earth, then to extend this to the World. He toppled not only the rulers of nations, he replaced their entire administrative processes with new centralized bureaucratic controls. Everything became codified, under the Napoleon Code which became the basis for modern legislative rules in the western world.
Once all was united under his rule, he was to be succeeded by his son, the new ruler of the world. His wife, Josephine de Beauharnais, was no longer able to bear children after the birth of her son and daughter from her previous marriage to a French General. Yet she remained officially Empress once divorced from Napoleon so that he could remarry with a fertile young spouse, who would carry his son to term. We can speculate that his second spouse, Marie Louise of the Holy Roman Empire, was offered for this very purpose.
This is to explain why it is conceivable, if not scientifically plausible, that Napoleon was used by the Illuminati to re-establish a lost dynasty, the dynasty symbolized by the Illuminati emblem of the Pyramid. To begin, the Revolution had overturned much of Judeo-Christian civilization, banishing the church and promoting a new religion for the SUPREME BEING aka Nature, replacing the calendar with different months, starting it at Year Zero to begin a new Era (any relation to Ground Zero established on the first year of the new Millenium?).
The ancient mystery schools behind Rosicrucians, Freemasonry and the Illuminati are said to have their roots in the Brotherhood of the Serpent dating back to ancient Egypt. Much of the occult symbolism present in their rituals and dates back to the ancient mystery schools and only the highest initiates are revealed the truth about what hidden knowledge they withhold from the rest of humanity, and the secret agenda behind their great work.
We can assume that this agenda has, if not principally at minimum as a corollary nice to have feature, the objective of resurrecting the ancient Pharaohs to reestablish their dynastic ruling over our destinies. To this end, we can consider a number of efforts including the reproduction by cloning of ancient Pharaohs. Before you shout "What Next?" here is what brought me to consider this possibility.
We all know that portrait painters, if not systematically, at least regularly either by request or because the ugliness of a subject was too repulsive to portray them honestly, had learned the art of virtual cosmetic surgery by reducing disharmonious traits or masking certain facial characteristics. Some may also consider the use of portraiture to better disguise for propaganda purposes the likeness of doubles who may have been occasionally substituted for important officials or members of nobility. It can be assumed, from the evidence which can be discovered, that this art of disguise and embellishment was pressed into service and even pressed to its limits in the representations of Napoleon Bonaparte's only son and heir to his Empire.
This was not, as can be assumed, because he bore the somewhat unflattering traits of his father which was not a handsome man by any measure, and certainly not because he took after his mother who was a pleasant looking Austrian Princess. It is more likelly because he in fact looked nothing like either of them, having cranial and facial features which were not like father or mother. And this was probably not due to marital infidelity as is often the case in such an event. For his appearance was not even European, seeming to look more like a souvenir from his father's middle eastern travels than an extension of his genetic heritage.
What exactly did Napoleon bring back from his conquest of Egypt? And was his mission as successful as claimed? Why did he order the execution of an entire brigade of his army, on pretenses that they had been contaminated by the plague? What did they know and why did they need to be silenced? Were they witnesses to what they shouldn't ever have seen?
en.wikipedia.org/wiki/Siege_of_Jaffa
The following is a propaganda painting by Baron Antoine Gros, official "imbeded" painter who accompanied the French Army during the Egyptian invasion, showing a fictional visit by Napoleon to plague infected soldiers whom in reality he 'compassionately' ordered executed for alleged sanitary reasons.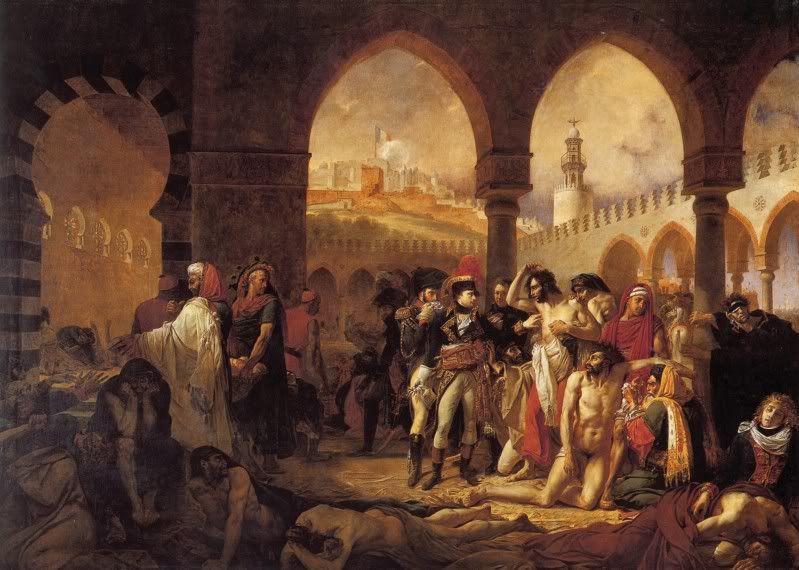 While such a genocidal supposition seems odd if not unbelievable, as no motives seem to support such alleged acts, we must however reconsider our position in the light of what might, to an educated eye, appear to be evidence of secretive operations under the cover of a banal military incursion, with purposes which extend far beyond the official purposes of purported efforts at colonization.
A brief glance at the death mask of the son of Napoleon Bonaparte and Empress Marie Louise will provide some answers to those versed in the study of Egyptian antiquity and knowing the physiognomy and general demeanor of the Pharaohs. We can compare it to the many known portraits and sculpted busts of his father Napoleon Bonaparte at various ages, as well as the numerous paintings of Empress Marie Louise, to dispel any misrepresentations of his appearance bearing the least bit of resemblance to his alleged biological parents.
The following picture shows a sculpture dating back to Egyptian antiquity of the first Pharaoh to establish Monotheism, Akhenaton or "Echnaton". He was married to Nefertiti and considered himself the representative on Earth of the Sun. To his right you can see the Death Mask of Napoleon II, who allegedly died of Tuberculosis in Vienna. It is a morphologically accurate plaster casting of his face molded immediately upon his death, as traditionally done for important personalities in the times preceding the invention of photography.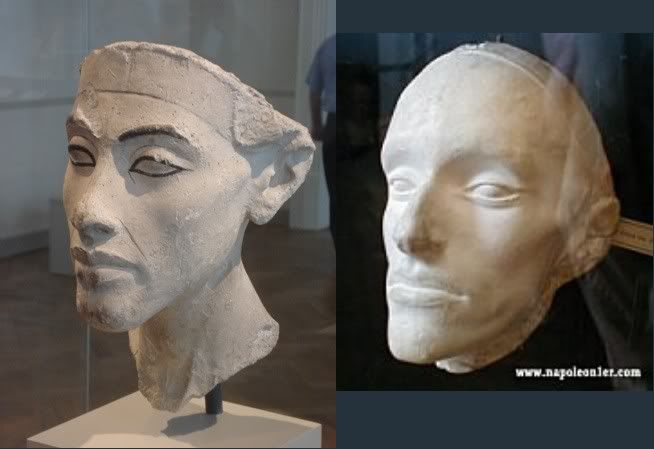 Death masks were used in order to keep an eternal trace of a person's actual physical appearance for posterity. It was common knowledge that portraits, either due to the limited talent of artists or by request for aesthetic or propaganda purposes, were often far from accurately representative of one's physical traits. For this reason, we can reasonably rely upon the features of the molding to imagine the person alive, in living color.
You may verify what Napoleon's son was supposed to look like with a simple Google image search for "Duke of Reichstadt". While some of his features are present in drawings and paintings, they are re-disposed in entirely different proportions. Was this done to flatter his family or out of fear of reprisals? Regardless, his uncanny facial traits are difficult to trace through his official lineage.