Post by GetSmart on Nov 9, 2009 12:49:08 GMT -5
One more time I have the distasteful duty to inform others that one of our cultural Icons, Andy Warhol, was replaced by a doppelganger.
Here he is in 1963 and 5 days before his death during routine gall bladder surgery.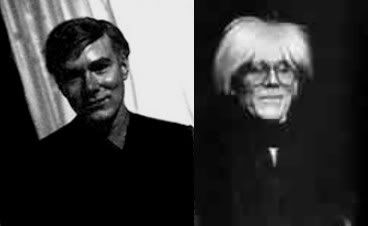 What is striking is not just more squarish jaw, the different ears and nose and hair texture which went from thick and nappy to thin and straight. Aside from his adoption of wigs and sunglasses to better disguise the substitution, Fandy Warhol was not as sensual and, not surprisingly, suddenly lost any residual talent, using trendy gimmicks as a smoke screen for an empty message.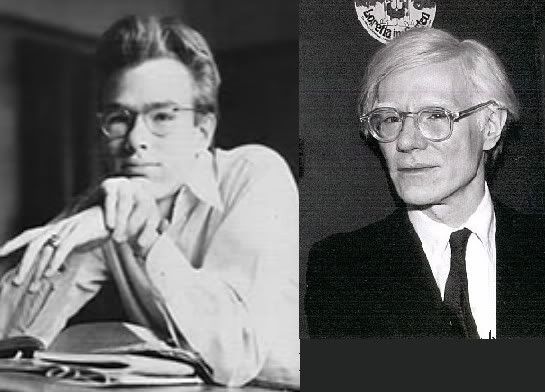 It is likely that he was really murdered during his "failed" assassination attempt, with his double being conveniently reappearing in his place after he was shot several times in the chest by a mind controlled feminist, Valerie Solanas, on the 3rd of June, 1968, R.I.P.
The prime suspect as his doppelganger is his former Californian lover, Richard Rheem. They have similar features, and after surgery he would have known him well enough from living with Andy and his mother that he could impersonate him effectively.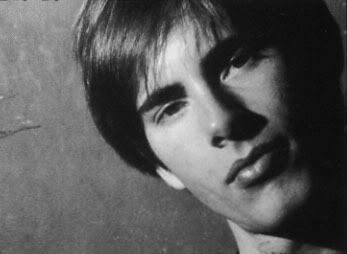 Richard Rheem lived with Andy Warhol and his mother in NYC when this screen test was done.
Richard Rheem is described in the first volume of the Warhol film catalogue raisonne as "a young man from a prominent California family" who met Warhol at a party given by his uncle Bob Rheem and the artist/poet Liam O'Gallagher to celebrate the opening of the E.P.I. Warhol asked Rheem if he'd like to be in movies.
After Warhol returned to New York, Rheem wrote him some letters and spoke to him on the telehone. Two letters from Rheem have been found in Andy Warhol's Time Capsule 79 - one dated July 27, 1966 and another dated September 7, 1966. He arrived in New York around the beginning of October 1966 and a romance with Warhol ensued, with Rheem giving Warhol's address as his own (1342 Lexington Avenue) on a talent release dated November 7, 1966.
Victor Bockris' biography of Warhol has them living together until the second week of December 1966. After they split up Rheem continued to write to Warhol on a friendly basis as letters from him have been found in Time Capsules 12, 19 and 10 from 1968 and 1969.
In addition to being the subject of four Screen Tests, Rheem also appeared in Tiger's Place, The Andy Warhol Story (as Gerard Malanga), Richard and Mary I and II (with Mary Woronov), Since (as Governor Connelly), the colour version of Susan-Space, Ingrid and Richard, Mrs. Warhol and The Bob Dylan Story.
Since aka The Kennedy Assassination
Filmed Autumn 1966
Cast includes: Gerard Malanga, Ondine, Mary Woronov, Susan Bottomly, Randy Bourscheidt, Ronnie Cutrone, Walter Dainwood, Richard Rheem, Henry Geldzahler (in Ondine #1 reel)
Andy Warhol's film, The Kennedy Assassination is mentioned in the Victor Bockris biography of Andy Warhol (see references). Bockris says that "Gerard felt humiliated when Andy stuck him in a minor role in an epic movie, The Kennedy Assassination. Malanga and Ronnie Cutrone alternated the roles of Jack Ruby and Lee Harvard Oswald.
The Bob Dylan Story
Filmed ca. October 1966
Cast includes: Paul Caruso, Marlowe Dupont, Susan Pile, Susan Bottomly, John Cale, Richard Rheem
There are a number of reasons why Andy Warhol may have been replaced by a double. One was his key role in removing almost permanently the artistic basis of art by validating Pop art without significant work and little more than clever gadgetry. Those seeking to uproot culture and promote a cultural rear-ending of society then went on to promote this as true art and drove up his prices using his sales in a money laundering enterprise.
He may have been eliminated because of something said in one of his "lost movies" which mysteriously vanished without anyone knowing what became of them. One of these was about the JFK Assassination, and we know how many people were killed to cover up that crime. The other movie was The Bob Dylan Story and we also know how many times Bob Dylan has been replaced by doppelgangers over the years. He made that movie using Paul Caruso playing Al Grossman although he was a dead ringer for Bob Dylan. Did Paul Caruso go on to become Fob Dylan? Either of these films could have brought on Andy Warhol's premature death.
He presumably died much like Gianni Versace, minus the pigeon. His entourage was also at great risk, especially those who were witnesses of the goings on at The Factory which may have had ties to CIA programs or other unsavory characters. Here is a case in point, his former lover and film maker at The Factory, Danny Williams, who vanished one day never to be seen again.
Andy Warhol's boyfriend Danny Williams disappeared without a trace in 1966 and Warhol wouldn't talk with his family about it. Here you can see Paul Morrisey interviewed about Warhol's reaction and what he says is striking.
www.metacafe.com/watch/597661/warhol_factorys_danny_williams_new_documentary_film_interview_c/
Danny Williams' sister refers to Warhol's statements about his lover Danny's disappearance, such as "What are they calling us about for? Why would we care about that? She says "I would think that if it was a normal person, they would be saying... "well what can we do to help?" Not "Don't call". What were they afraid of, why weren't they willing to talk?
Paul Morrissey says: "He didn't let anything affect him. You have to realize, he was a very limited type of person. So, he knew how to handle himself. And, uh, he wasn't, uh, that kind of person who, people died, he just..." [shakes head in dismay]
Had Andy Warhol been already replaced by a heartless Clone, before being disposed of in 1968 and replaced by an actor? Or was he just too afraid to speak, knowing he was under surveillance and was mixed up in something so dangerous that it eventually led to his own death? He may have died along with Danny Williams, with his first double shying from phone calls and severing ties with those who know the real Andy Warhol too well.
For more info check out
markmolaro.com/
Scroll down to
Warhol Factory's Danny Williams
"A Walk in the Sea" for the full interview.